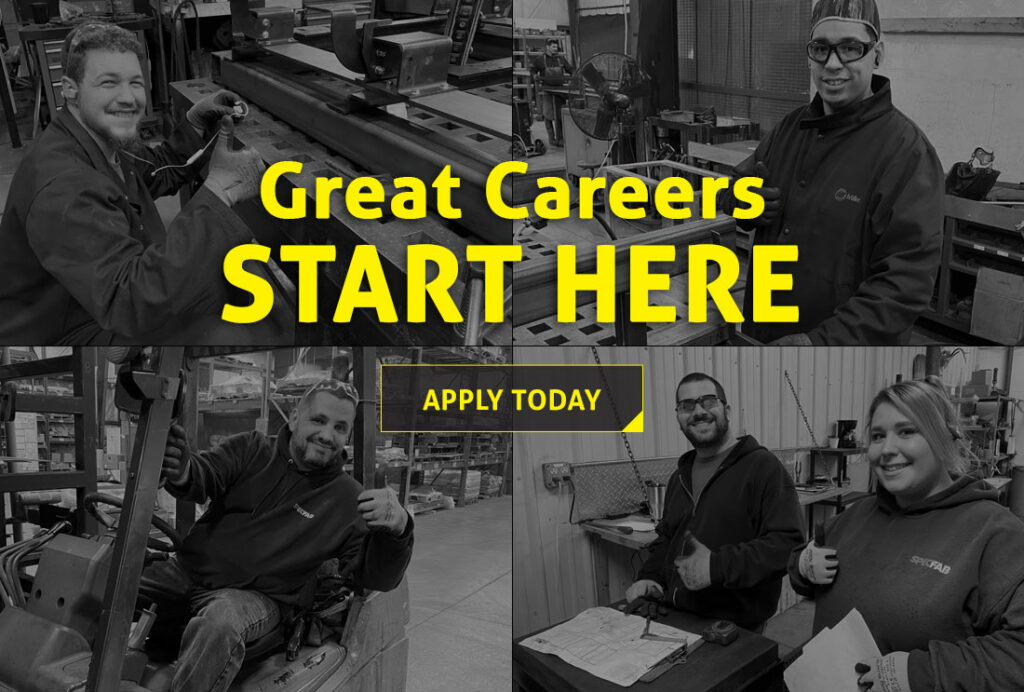 Careers at Spec Fab
Are you looking for a career in metal fabrication, welding, or design? Do you have experience working in a busy fabrication shop or manufacturing facility? Are you a hard worker, with a desire to learn and advance? If so, we want to hear from you!
Benefits of Working at SPEC FAB
Great Team & Work Environment | Competitive Pay | Performance Bonuses | Health Insurance | Retirement Plan | Training Provided | And More!
At SPEC FAB, we're always looking for welders, fabricators, administrators, designers and other support staff to serve our customers and help keep our busy shop working efficiently. In addition to competitive wages, full benefits, and a fun work environment, we're growing – and that means opportunities for advancement!
If you're friendly, responsible, mechanically-inclined and think you've got what it takes to join our team, please apply today. We look forward to hearing from you and determining if your skills are a fit for our team!
Open Positions
Don't See a Position?
If you have experience in metal fabrication, manufacturing, design or administration, and you think your skills would be a great fit for our team, we invite you to apply today! We are always looking for enthusiastic, growth-oriented team members and are willing to create an opportunity for the right candidate.
How To Apply
Call or Email Us
Jobs@MySpecFab.com
1-866-503-8873